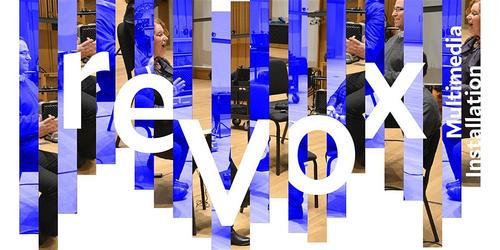 On Wednesday January 29th, The Center for Collaborative Arts and Media hosted a reception and series of performances to celebrate the opening of the reVox multimedia installation. The event was organized by Libby Van Cleve, director of Oral History of American Music (OHAM), and curated by Jack Vees and Alexis Lamb.
The installation was commissioned with the support of the Irving S. Gilmore Music Library in celebration of OHAM's 50th anniversary. For the installation, composers plundered the OHAM collection of interviews of American musicians and remixed them into new compositions. Video artists were then tasked with creating a piece to accompany the audio works. The final products were debuted in the hallway at CCAM on the evening of the event and will remain on view through mid-February.
To kick off the night, the crowd first had a chance to mingle and enjoy the installation in the CCAM gallery until the performances commenced. The songs performed were Placerita by Jack Vees, Soon Song by Gabrielle Herbst, I was talking to Palestrina when my mother told me Takemitsu was on the phone, an homage to Leo Brouwer by Benjamin Verdery, and The Making of a Memory by Tanner Porter.