Studio Fellowship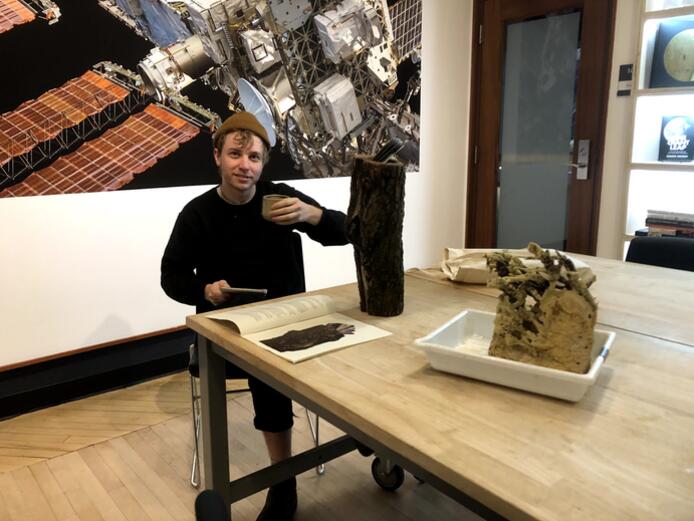 The CCAM Studio Fellowship is a year-long paid fellowship open to all enrolled Yale undergraduate and graduate students interested in producing collaborative work.
The CCAM Sudio Fellowship is an opportunity for upper level students and graduate students to pitch collaborative projects to CCAM. The projects are required to have a collaborator outside of CCAM including other centers, schools, labs, or groups; in the Yale community or with collaborators and communities outside of Yale. Studio fellows will spend the academic year developing one project to be presented, demonstrated, installed, or exhibited at CCAM during the Spring 2021 semester.
Fellows are required to develop, design, and teach one workshop based on the technical themes, research, and experiments related to their project. The CCAM Studio Fellowship is a paid student position  and fellows will have access to select CCAM resources including our Satellite Lab, Blended Reality research, and some limited equipment checkout.
The fellowship is project based, and students will be selected based on novel approaches to experimentation with technology and the overall collaborative potential of the project. Students from all disciplines are encouraged to apply and students can apply in collaborative teams. Only one student should turn in the application from the team, and the team limit is four students. 
The next application cycle will open in September, 2021.
STUDIO FELLOWS
2020-2021
Herdimas Anggara
Adhya Beesam
Chiara Amisola
Roxanne Harris
Max Himpe
Al Larriva-Latt
Anezka Minarikova
Mariel Pettee
Amina Ross
Ilana Zaks
2019-2020
Chiara Amisola, Yale College '22, Computing and the Arts
Liam Bellman-Sharpe, Yale School of Drama '20
Felicia Chang, Yale College '21, Computing and the Arts
Sofia Checa, Yale College '20, Electrical Engineering and Computer Science
Dylan Hausthor, Yale School of Art '21 (Photography)
Annie Ling, Yale School of Art '21 (Photography)
Ash Pales, Yale College '20, Architecture
Erin Sullivan, Yale School of Drama '20
Camilla Tassi, Yale School of Drama '21
Ross Wightman, Yale School of Music '20
Anna Zheng, Yale College '21, Russian & East European Studies and Economics
Ye Qin Zhu, Yale School of Art '20 (Painting/Printmaking)