CCAM Wednesday Wisdom with Damian Loeb: My First Algorithm
Image: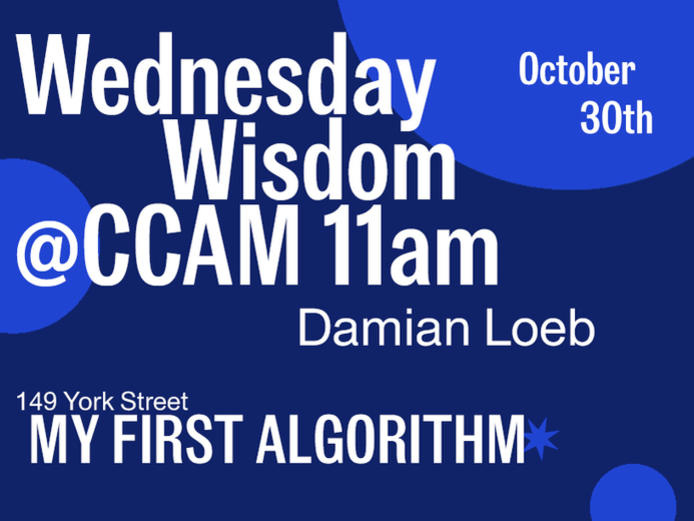 CCAM Wednesday Wisdom with Damian Loeb: My First Algorithm
Wednesday, October 30, 2019
Join the artist in interrogating the ubiquitous all-seeing eye of surveillance. He will share new work in progress for understanding perceived phenomena starting with doorbells. This talk is part of the Wednesday Wisdom series at the Yale Center for Collaborative Arts and Media. All members of the Yale community are welcome! Tickets are free, but registration will be capped at sixty guests. Please RSVP .
Damian Loeb is a self-taught classical painter born in New Haven, Connecticut in 1970. Loeb moved to New York City in 1989, where he first came to public attention after being discovered by Jeffery Deitch of Deitch Projects in 1997. 
Loeb's art is seemingly both obvious and cryptic, with his use of decoded imagery freed from any subjective bias, and his individual usage of common tropes. In creating an empirical sense of reproduction, Loeb invents a dialogue between relativism and individual interpretation, exposing culture's codification of a popular visual vocabulary. His work is intrinsic to his own personal experience, documented by his constant photography, a tool he uses to dissect and recompose life as experienced through the eye of a culture over educated in the "eye of the director."
Loeb is widely recognized for his work's ability to evoke personal emotions as if derived from subjective memory. He has always been fascinated with collecting, studying, and creating intimately potent images through both painting and photography. As he explains:
Only real life disappoints what is the perfect image to sum up all emotions tied to objects and notions of value. Our early memories are actually a shorthand language composed almost entirely from experienced photos, videos, and anecdotes. With the enhancement of all images—porn airbrushing to post-production product placement and posthumous personal endorsements, we see ourselves and our world through other's eyes and we become fascinated with the portrayal and/or reproduction of what we see.
Since 2011, the artist has been focused on painting grand and graphic scenes of Earth and its celestial environs, all based on photographs taken by the artist. He has captured a wide range of astronomical phenomenon, including the aurora borealis while flying 50,000 feet over the Dakotas, the depths of the Milky Way from the beach in Maui, and constellations and clouds from a backyard in Long Island. From his rooftop in New York City, he has photographed planetary conjunctions, the position of Jupiter and its moons, the rings of Saturn, a lunar eclipse, solar flares, and both Venus and Mercury passing in front of the Sun. In the summer of 2017, the artist traveled to Jackson Hole, Wyoming to capture the total solar eclipse that was visible from North America, using a hydrogen alpha telescope with an attached camera to observe and record a remarkable range of effects within the two-minute and twenty-two second phenomenon. These observations have inspired his most recent work. His meticulously painted images of the dramatic, fleeting moments of the eclipse invite viewers to consider the seeming eternal existence of the sun in relation to the ephemerality of the eclipse.
Loeb's work reflects a fascination in, and the translations between, two worlds—the analog and the digital, and classical painting techniques against a consuming obsession with new media and technology. After years of capturing, condensing, and editing images in his huge digital archive, the artist then meticulously makes his paintings by hand, recreating the memories and emotions of the instigating moments. Completely immersed in the subject, he works on only one individual painting until its completion, sometimes dedicating months to a work.
In Landscape Painting Now: From Pop Abstraction to New Romanticism (published by D.A.P. in 2019), the art historian Robert Shane describes Loeb's approach to painting in his recent work:
Pushing the landscape genre into the realm of the extraterrestrial, Damian Loeb gives the nineteenth-century Romantic sublime a twenty-first-century reboot by depicting vistas that would have been inconceivable in earlier eras, such as view from airplanes and the Hubble telescope, Loeb's glossy hyperrealist style has a distinct digital vibrancy, though his large-scale canvases call for an extended contemplation not commonly associated with digital images. Working with a computer monitor alongside his easel, where still life objects might traditionally be placed, Loeb can directly observe digital images—ones he created or found online—that he has collaged and manipulated in Adobe Lightroom and Photoshop. His most recent work marks a conceptual break with his earlier narrative scenes based on appropriated film stills, though his landscapes still retain a cinematic drama.
Since his first solo show at Mary Boone Gallery in 1999, Loeb has had solo shows at White Cube in London and at Jablonka Gallery in Cologne. In 2006, the Aldrich Contemporary Art Museum in Connecticut held a retrospective of his work. He is currently represented by Acquavella Galleries of New York, where he had his fourth exhibition in spring 2017.
At Frieze New York in May 2019, Acquavella presented Loeb's paintings of the solar eclipse of August 2017 as a solo exhibition, only the second time in the gallery's history that they have dedicated their presentation at a fair to a single artist. 
Loeb lives and works in TriBeCa with his wife Zoya and their children.