Interdisciplinary Arts Awards
Interdisciplinary Arts Awards support collaborative arts projects by Yale University students, both graduate and undergraduate. Awards may be granted in amounts of up to $2,000 to projects that demonstrated an ability to collaborate across fields with creative and critical insight, and thereby reflect the interdisciplinary arts research mission of the CCAM.
The 2017 Interdisciplinary Arts Awards portal is now open! Submissions will be accepted thru December 15, 2017. Please click here for more details:
Past Awards
2016

INTERDISCIPLINARY ARTS AWARDS
Motion Tracking and the 3D Hologram
Bek Andersen + Michael Commendatore
A collaboration in interactive holographic projection and live performance.  Andersen and Commendatore will present an interactive holographic performance presented in a hybrid art and theater space. The acting hologram is activated via live offstage performance and motion tracking technology, allowing live audience interaction. Differing but related creative practices bring complementary research expertise to achieve something a remarkably new collaborative experience between art and theater.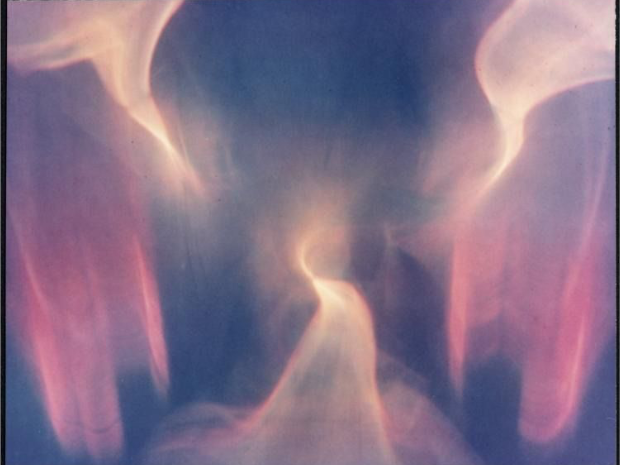 Lumia
Yaara Beer + Wlad Woyno Rodriguez
Thomas Wilfred (1889-1968) was one of the foremost innovators in light installations and time-based media of the twentieth century. He named his art Lumia, light objects that were made for both the home (furniture converted into light installation works), and the museum (his major work was installed at MOMA).
Our group is interested in building a work based on Wilfred's ideas of optics and design.We would like to study his analog techniques, and explore the tinkering spirit that his work engaged amongst contemporary tools and techniques. We are excited about investigating analog synthesis and processing of light through the lens of digital tools.
This project is a collaboration between Yaara Beer (Drama '19, Projection Design), Wlad Woyno Rodriguez (Drama '18, Projection Design), Michael Commendatore (Drama '17, Projection Design) ,Yana Birykova (Drama '17, Projection Design), Daria Ricchi (Postdoctoral Associate, FASHAR History of Art), Brittany Bland (Drama '19), Barbora Bartunkova (GAS '21, History of Art), Michael Morris, Mark Aronson (YCBA), Bek Andersen (Art '17, Photography), Camille Altay (Art '18, Painting and Printmaking), Hasabie Kidanu (Art '17, Painting and Printmaking), Molly Channon (Divinty '17), Bianca Boragi (Art '17, Sculpture), Johnny Moreno
(Drama '18, Projection Design), Fred Kennedy (Drama '18, Sound Design), Michael Costagliola (Drama '18, Sound Design), Krista Smith (Drama '18, Lighting Design), Carr Chadwick (Art '17, Graphic Design)
Now, in Color
Clark Burnett + J. Joseph + Karnessia Georgetown
"If I didn't define myself for myself, I would be crunched into other people's fantasies for me and eaten alive."
― Audre Lorde
By exploring the stories of Black students on Yale's campus, Now, In Color counters the media's traditional and monolithic construction of what it means to be Black. In each episode of this documentary series, we delve into
our subjects' interests, passions, hopes and motivations, from mechanical engineering to poetry. The series aims to showcase, to the world, the breadth and depth that is Blackness. Filmed in the Afro-American Cultural Center at Yale, Now, in Color is an extension of an ongoing movement. In the process, we hope to connect with the youth of our community by providing access to Black Yale students with diverse interest and backgrounds.
This project is a collaboration between J. Joseph (YC '19, Film and Media Studies), Karnessia Georgetown (YC '19, Sociology and African American Studies)
Promise Land
Yana Biryukova + Carolina Ortiz
How can visual technology act as a universal communicative tool and trigger an important, difficult conversation? The question of individual cultural identity is more important than ever in America today. Striving to preserve your cultural background, while also fitting in and not feeling like an eternal outsider is the dilemma of every immigrant. Promise Land is a multi- room intermedia performance that incorporates video, light, sound and sensorial exploration to recreate the internal conflict of a person from abroad living in the United States. Created by Yana Birÿkova and Carolina Ortiz.
This project is a collaboration between Yana Biryukova (Drama '17, Projection Design) and Carolina Ortiz (Drama '17, Lighting Design)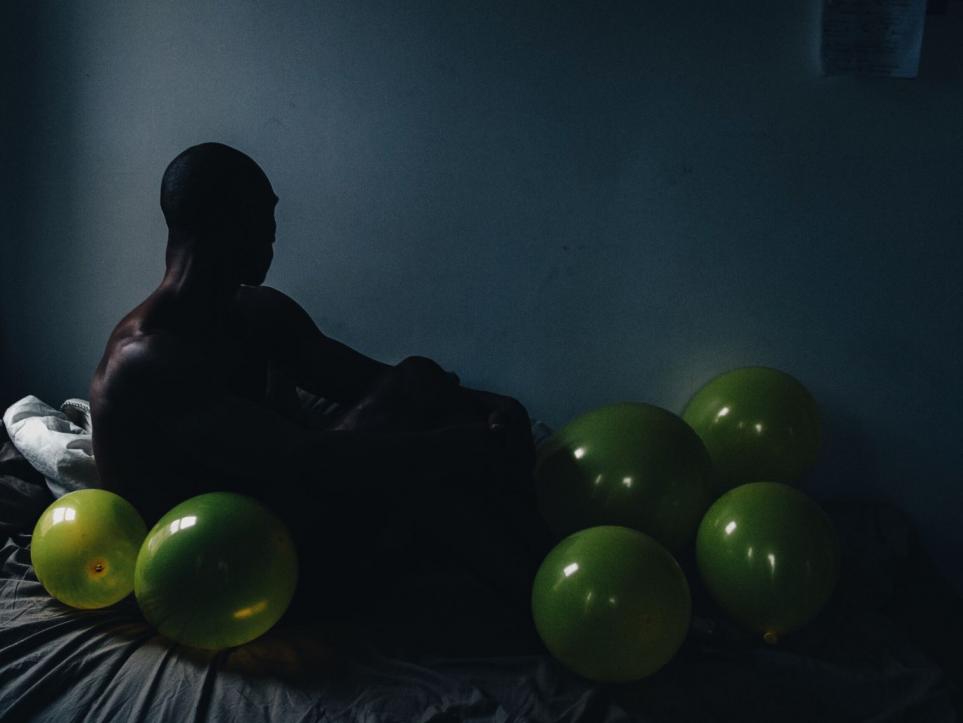 A Drop of Sun Under the Earth
Shikeith Cathey + Paul Daniels II + Bobby Berry
A transmedia narrative colliding autobiography/bio-mythology, virtual reality, poetry, moving image and performance, which looks to Audre Lorde's "Uses Of The Erotic", through the lens of Black cultural theology, and the Christian concept of incarnation, to expand its implications toward another set of bodies historically removed from and denied their own erotic potential and capital—the black queer / male body.
This project is a collaboration between Shikeith Cathey (Art '18, Sculpture), Paul Daniels II (Divinity '19, Ministry), and Bobby Berry (Yale College '18, Computing and the Arts)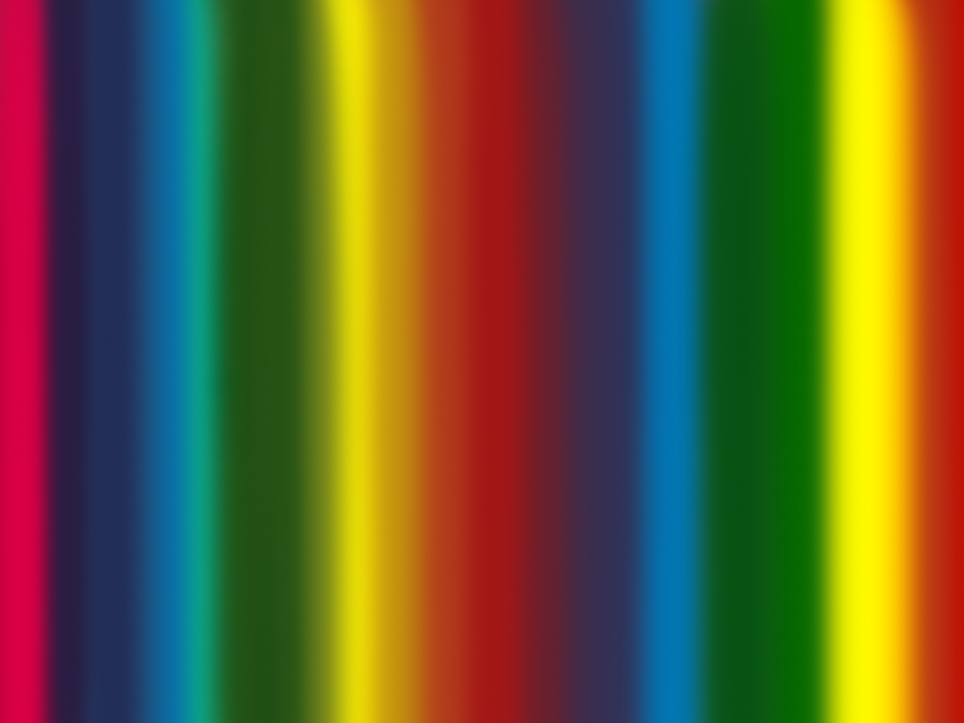 Arden: an investigation of queer utopias
Erik Freer + Emma Weinstein + Michael Breslin
A transmedia collaboration that examines a past, present and future of queer spaces in The United States. The project begins with the Jose Esteban Munoz's Cruising Utopia: The Then and There of Queer Futurity and
Shakespeare's As You Like It, working towards an act of radical imagination; fusing immersive theater, multi-channel video installation, digital music and interactive technology to probe the potentiality of queerness as a theoretical, aesthetic, and lived practice. Arden: an investigation of queer utopias is a critical, collaborative experiment, exploring Shakespeare's Forest of Arden, a site rich with queer potential, a space away from society where oppressive structures of gender, sexuality, and race are blurred and called into question. Envisioning subjective queer futurity in a distinctly bleak present moment, Arden challenges silos of practice, fostering a rigorous discourse between theatre and visual artists, and mining the potential of creative trans-disciplinary possibilities for students at Yale University.
This project is a collaboration between Erik Freer (Art '17, Graphic Design), Michael Breslin (Drama '19, Dramaturgy & Dramatic Criticism) and Emma Weinstein (Drama '19, Directing)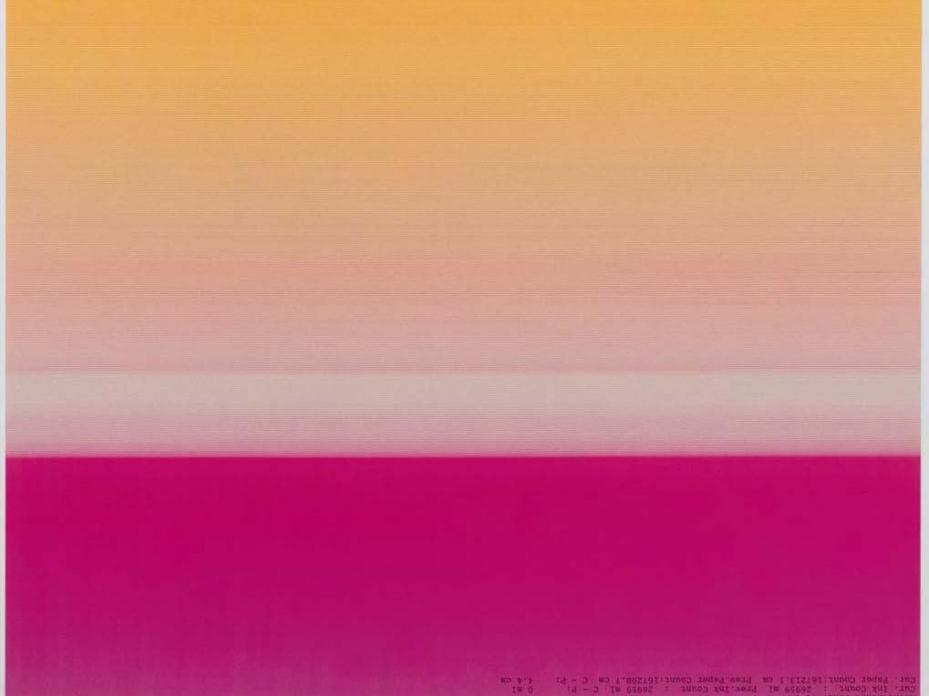 Inkjet Interjections
Benjamin Ganz + Walker Olesen
This project explores intersections between photography and design practices at the site of the inkjet printer. Through a process of modification and deconstruction, a series of prints will be produced that recursively examine the digital print medium.
As a leveling device, the inkjet printer equalizes and enmeshes the otherwise disparate digital output from these two practices. As its nozzles pass back and forth media boundaries disappear in a finely articulated mist of Cyan, Magenta, Yellow and Photo Black.
The printer itself is an under-appreciated but crucial bridge between mediums; this project is interested in widening the bridge, physically intervening and reengineering the device in order to broaden and change the connection between mediums.
Modifications will include removing the blade, removing the optical sensor, passing different substances and alternative inks through the print lines and otherwise imposing physical alterations at the point of printmaking—where digital files and lines of code become real: a re-consideration of where the boundaries lie in art practices that are digital but also, crucially, physical. By locating a boundary between the fields of photography and design in the inkjet printer, this research seeks to inhabit the line, redraw the line, and repaint it.
This project is a collaboration between Benjamin Ganz (Art '17, Graphic Design) and Walker Olesen (Art '17, Photography)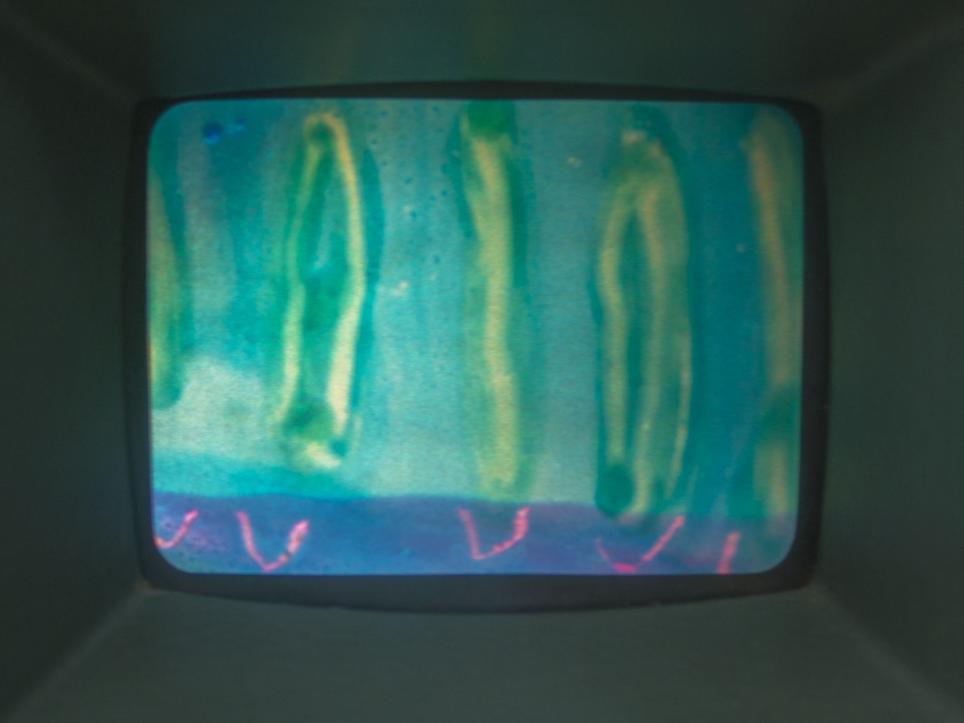 Bilal
Hasabie Kidanu + Mohammed AlMohsin
An abstract musical animation piece that explores the relationship between image and sound at the intersection of hand-painted 16mm film animation and the sounds of the Oud, a stringed instrument similar to the lute that's used in Middle Eastern music.  The resulting experimental musical animation examines the relationship between the light, time, the physicality of film, and the musical rhythm of the Oud.
This project is a collaboration between Hasabie Kidanu (Art '17, Painting and Printmaking) and Mohammed AlMohsin (Art '17, Painting and Printmaking)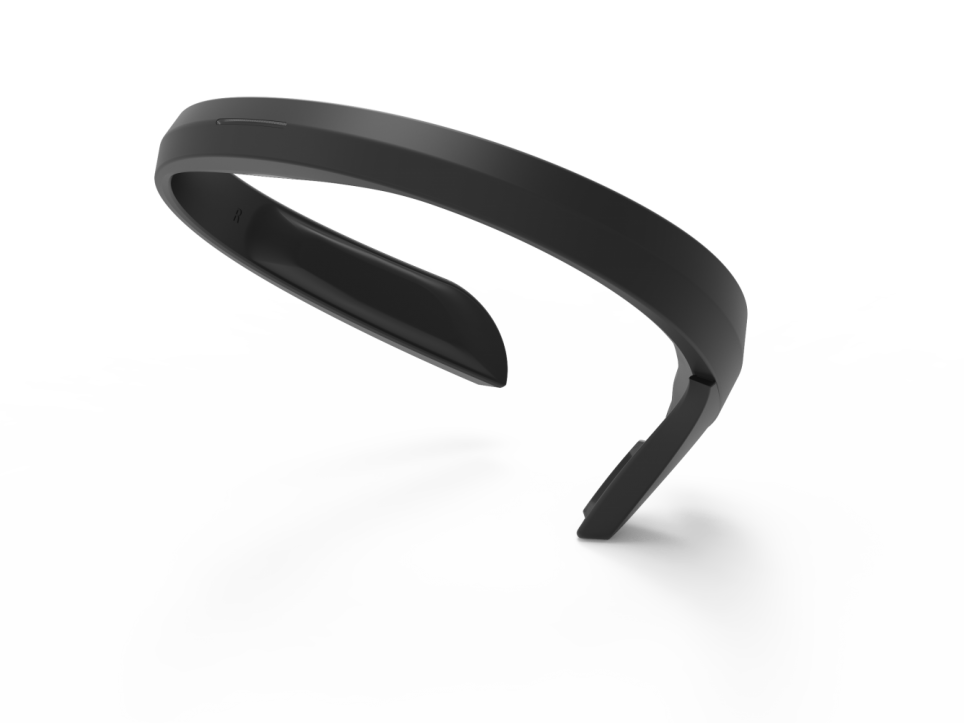 Art of the Mind
Wa Liu + Chuhan Zhang + Sam Wu + Bicheng Han
An interdisciplinary project that integrates art, music, and technology that explores relationships between mind and environment. Resulting in an interactive art installation, this project engages audience in exercises of
concentration thru the use of an EEG headset that utilizes brainwave activity to intervene in the installation's spatial properties, thru subtle affect of ambient surroundings. Triggering a series of subtle changes in the surroundings through computer software enables intimate communication between the viewer and the installation space, transforming the physical room into a meditative place; therein, a spectator becomes a performer who can observe her deep emotions and influence the external environment accordingly.
This project is a collaboration between Wa Liu (YC '17, Art), Chuhan Zhang (YC '18, History), Sam Wu (YC, Music and East Asian Studies), and Bicheng Han (PhD in Neuroscience)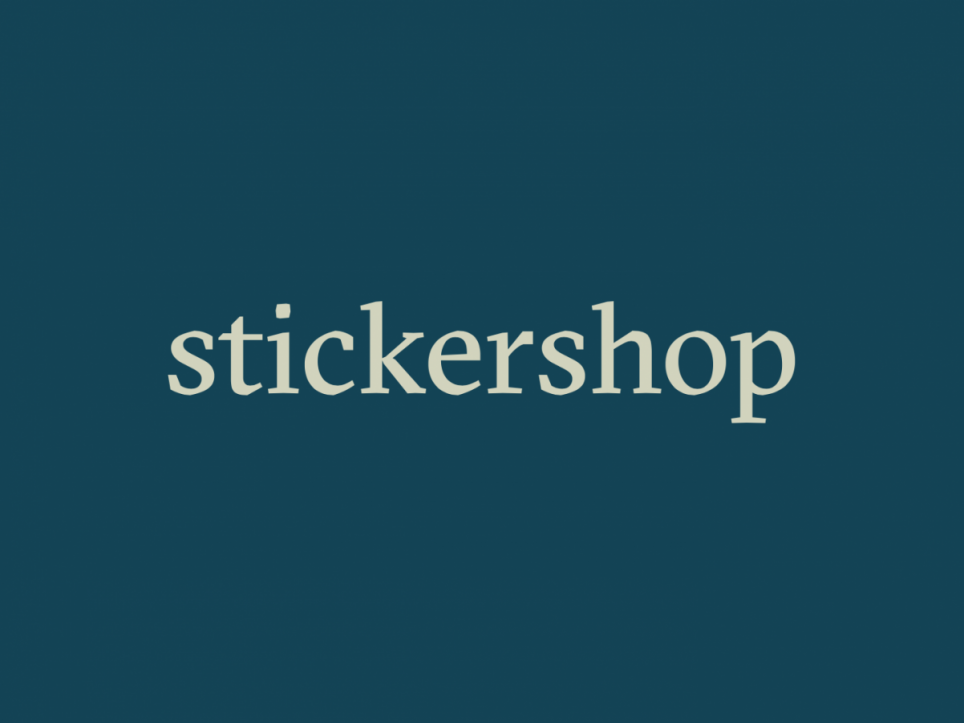 Stickershop
Abdel Morsey
Stickershop is a fine dining series that relies on extra-gustatory ingredients. At every event, our artists and designers curate an experience centered around a prix-fixe menu. To capture the spirit of each evening, we reveal a sticker which is then served to our guests as a summative memento.
This project is a collaboration between Abdel Morsy, Rayer Ma, John Chirikijian, Harper Keehn, Alex Posner, Will Kortum, and Chef Shinichiro Takagi; the Stickershop music team includes Jacob Reske (YC '16), Myles Cameron (YC '19), Trey Pernell (YC '18), and Nickolas Brooks (YC '17).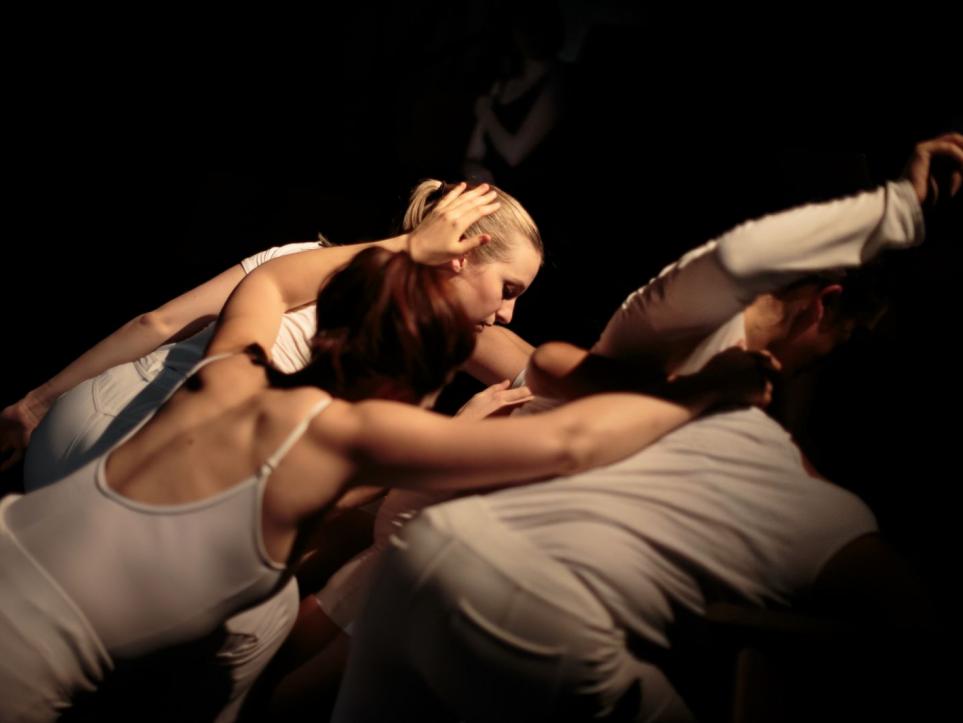 Then, She: A Performance Project in American Studies
Holly Taylor
An American Studies project in Performance Cultures, exploring the nexus of the female body (onstage) and the female voice (in literature) thru multimedia dance installation - a durational performance comprised of collaged text, video projection, and movement. Performance content will be built collaboratively by a small team of dancers, writers, and actors throughout Spring 2017 using techniques rooted in feminist corporeal theory and postmodern dance composition. The theoretical crux investigates how the combination of body and voice may create new representations of female identity that fragment and frustrate 'universal' identity and recuperate the female subject.
This project is a collaboration between Holly Taylor (YC '17, American Studies),
 Mary Chandler Gwin (YC '18, Molecular Biochemistry and Biophysics), Kat Lin (YC '18, Biomedical Engineering), Isabel Cruz (YC '17, Public Health), Luna Bellar-Tadiar (YC '18, Comparative Literature), Stefani Kuo (YC '17, Theater Studies), and Sabine Decatur (YC '18, African American Studies)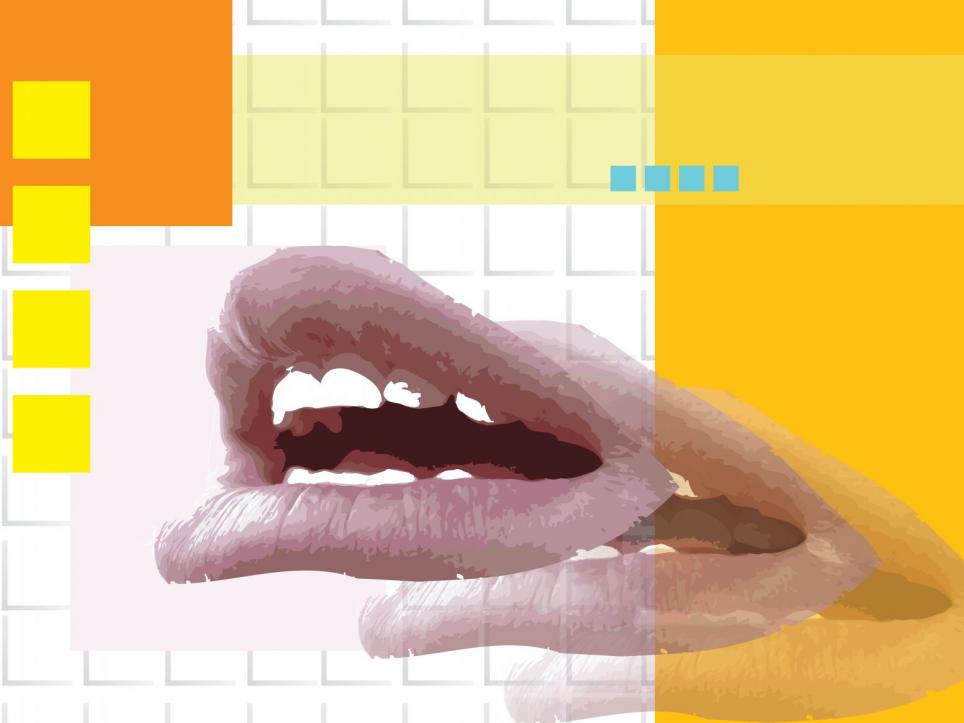 Stories from the Silent Minority
Oriana Tang + Haewon Ma
Asian American identity is not well-defined. This project collects oral histories and art/writing submissions from Yale students and faculty members who identify as Asian or Asian American and organizes them to create a portrait of what it might mean to be Asian American and the outlook that Asian Americans have on various issues, from political activism to education to relationships.
This project is a collaboration between Oriana Tang (YC '19, Creative Writing) and Haewon Ma (YC '19, Art)
Jenny (Craig)
April Wen
Jenny (Craig) is a multi-media stage play that connects three spheres of surveillance: the street, the bedroom, and the imagination. Jenny, a biracial Black teenager, creates an alter-ego named Bibbe, who is Chinese-American. Together, they map out the contours of their own imaginative and bodily freedom, be it on the evening city streets, in the intimacy of the bedroom, or in the white imagination of Jenny's boyfriend, Craig. Tactic seeks to tell a single story, of how a young woman chooses to watch herself in a world where she is always watched by others. This story will be told through a script, a short video, and a code for digital sound, which come together in three live performances open to the general public.
This project is a collaboration between April Wen (YC '17, Film and Media Studies), Gregory Ng (YC '18, Theater Studies; Ethnicity, Race and Migration), Isabel Benares (YC '18, History), Olivia Klevorn (YC '17, Anthropology), Stefani Kuo (YC '17, Theater Studies), Alec Mukamal (YC '18, Psychology), Elaine Wang (YC '20, Undeclared), Tiffany Fomby (YC '19, Undeclared), Dominic Coles (YC '16, B.A. Music; 1st year M.A. at Dartmouth University, Digital Music), Anna Wane (YC '17, Art), Vance Dekker-Vargas (YC '17, Sociology; Film and Media Studies), Rayer Ma (YC '17, Literature), Shirley Paxton-Fofang (YC '17, History; Ethnicity, Race and Migration), Yuni Chang (YC '18, Ethnicity Race and Migration, African American Studies), Luna Beller-Tadiar (YC '18, Comparative Literature), Claire Sheen (YC '19, Computer Science), Karina Xie (YC '19, Molecular, Cellular, and Developmental Biology), Vanessa Liu (YC '20, Undeclared), Benjamin Fischer (YC '17, Electrical Engineering)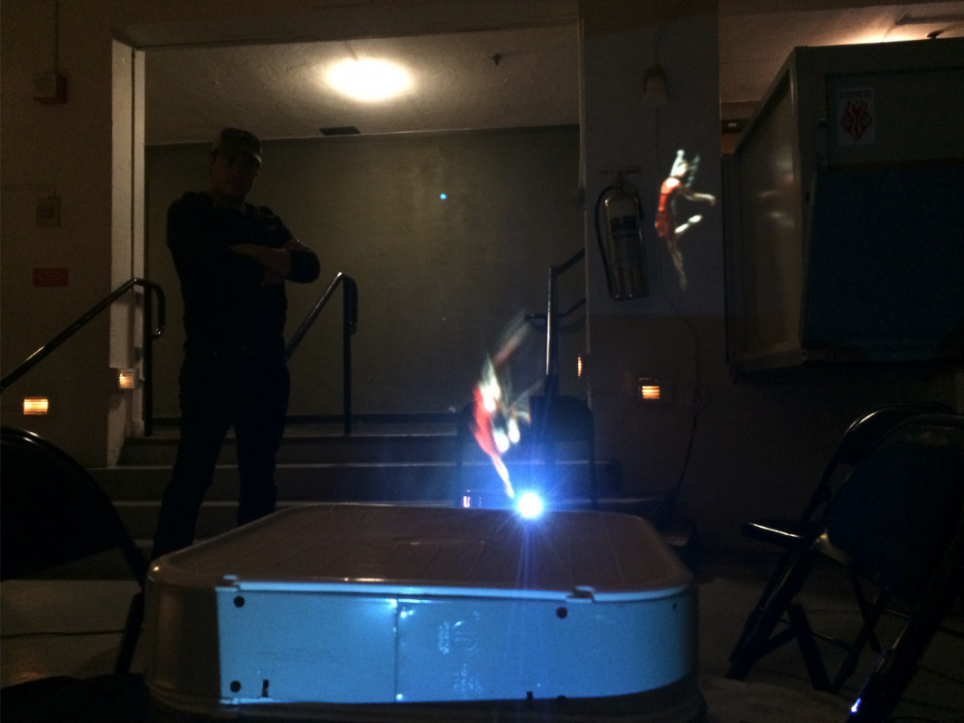 Reverie
Asher Young
Reverie is both a research and performance project. In an era of oversaturation and stimulation the everyday magic of the world is often forgotten. Reverie aims to create a dynamic, movable three-dimensional hologram that is completely ephemeral. The technology consists of fog particles being blown through a column of air that can move in the x and y planes throughout the space while being projected on from various angles. This technology will then be implemented into a newly imagined version of Peter Pan challenging the boundaries of the nature of medium. One common problem that many new mediums face is that they call attention to themselves whether it is intentional or accidental. As a result the desire for this machine is to utilize the technology in a manner, which breaks the traditional notion of a screen to further the narrative without distracting from the performance. If done appropriately this new technology has the potential to extend the narrative in ways that were not previously possible. The goal of the show and of the technology is to allow for everyone to still find a little bit of their own Neverland in their lives.
This project is a collaboration between Asher Young (YC '17, Computing and the Arts), Adela DePavia, (YC '19, Applied Physics), Henry Townley (YC'19, Physics), Clio Byrne-Gudding (YC '19, Mechanical Engineering), Collin Bentley (YC '19, Computer Science), Eli Baum (YC '19, Electrical Engineering and Computer Science), Evan Smith (YC '19, Electrical Engineering and Computer Science), Jon Bleiberg (YC '19, Applied Math), Lance Chantiles-Wertz (YC '19, Mechanical Engineering), Sam Laing (YC '19, Computer Science), Seamus Joyce-Johnson (YC '19, Mechanical Engineering), Zach Effman (YC '19, Math and Philosophy), Emma Keyes (YC '19, Film and Media Studies), Elizabeth Emmanuel (YC, Theater Studies and English), Michelle Lapadula (YC '18, Computing and the Arts), Eliza Robertson (YC '17, Theater Studies), Sara Harris (YC '19, Sociology), Declan Kunkel (YC '19, History), Ryan Seffinger (YC '19, Computing and the Arts), Adam Lessing (YC '19, EE&B), Elizabeth Goodman (YC '19, Architecture), Dan Rudin (YC '19, Music), Connor Dube (YC '19, Math and Computer Science), Ivy Wanta (YC '17, Physics), Jillian Kravatz (YC '17, English), and Nina Goodheart (YC '19, Theater Studies)